This post will be just a bunch of randomness....so get ready!

So this morning, while J and I were trying to get the stinker to brush his teeth....this is what happened: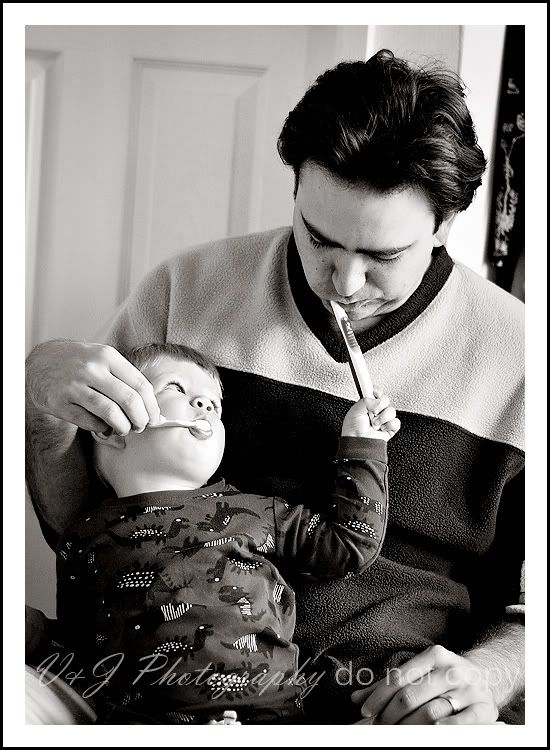 He is not a big fan of brushing, but for some reason..when he sits on Daddy..all is well in the world and they brush their teeth together! It happens all the time, but this time i actually ran to get the camera! How cute are these two "Duttes" (see below). Now who can share some tips to get him to brush on his own???

This next one I'll call "Three Men and a Baby"...there is nothing great about this shot technicaly, but i just love it! This was when isaac's Uncle JeffyM and Uncle Jeff were visiting...he had so much fun with the big boys :) For some reason, this shot makes me smile.
Ok, throwing one more in (told you it would be random)....this is my crazy little boy after his nap....he wiggled out of his sleepsack pj's...and stuck his arm out of his shirt...and thought it was the funniest thing in the world. He thought it was even funnier, when i got the camera and started taking pictures instead of getting him or of the crib. LOVE HIM!
And now we'll leave you with a few words of a 17 month old:

Dutte = Dude
Lala = Lana
Moow = No
Da = Da = Yes :)
Dudu = W
Beebeee = Baby (with french accent...umm, where did this come from?)
Beep Beep = car horn!
Have a great weekend everyone :) and thanks for checking in!