Those of you here in Northern California know we've been hit with some CARRAZY weather....well, crazy for this neck of the woods at least. I know i know..it's not Minnesota or Russia, it's not snow or blizzards or anything..but still...Rain, rain and more rain...is No FUN! Especially when you have a photo shoot that's supposed to take place outside in Sunny California weather!

So, you better believe I was jumping up for joy when I woke up Saturday morning to beautiful Sunny weather after weeks or rain! That meant we didn't have to cancel the photo shoot for the day...and good thing too!

Meet Ms. L...she just turned One, has gorgeous brown eyes and beautiful curls. She's a serious little pumpkin who loves to snuggle with mom and dad (seriously..it's the cutest thing!) Such a lovely girl...walking since about 11 months, so she's an old pro at the walking thing...but even still...didn't run from me! YAY!

A&J...here is your peek! Thanks you for a fun morning :) Can't wait to show you the rest of the gallery!!!!

Her eyes are SO expressive...



One of my FAVs from the session...looks very vintage...perfect for that outfit she's got on :)



Love the morning light here...



Can't believe how tiny she looks with those balloons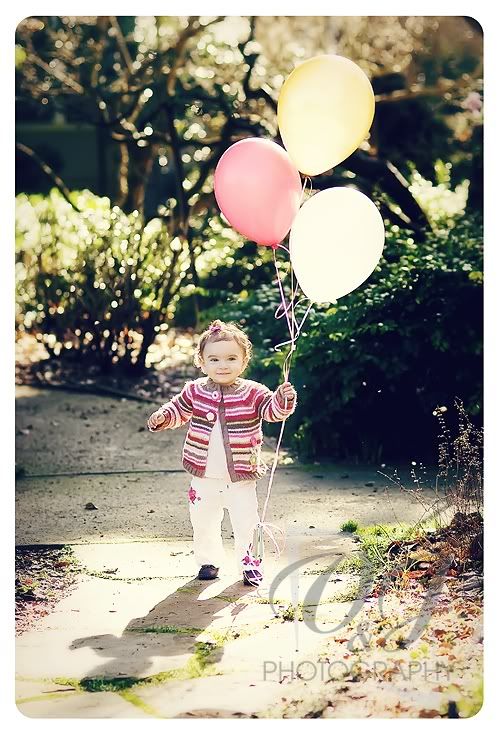 Mom and Dad wanted L to be the star of the show, which she was of course...but can't have a session without a few shots of the whole unit, right?



And last...A was totally prepared...she even brought a cupcake with a "1" candle...which L grabbed onto with all her might and refused to let go :)



~V